5 Financial Reporting Processes Companies Should Quit Doing
July 24, 2019 7:00 am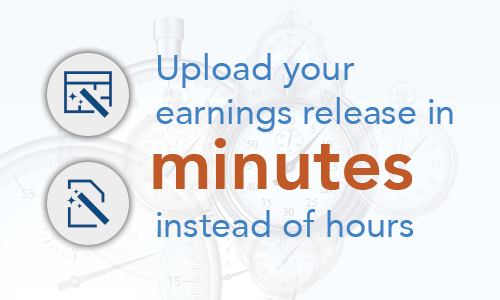 Financial reporting has long been considered a slow, detailed process. Part of the reason for this is many
EDGAR
– and XBRL-filing agents continue to cling to antiquated practices. By adapting to new technologies and adopting more advanced solutions, filing agents can quicken the conversion process for companies while better protecting private company data.
Here are five obsolete practices that companies should quit doing:
1. Pencil-down time frames
A good place to start is understanding that the XBRL requirement stating that changes to XBRL have to stop two to five days before the company's filing deadline is out of date and no longer applies. Because the process of XBRL editing has gotten faster, there isn't as much of a concern that financial documents will be filed late.
2. Reviewing XBRL in Excel
While Excel is one option to store data, the newer, more streamlined and secure online databases offer a better alternative. Excel only slows down the process and creates more of a risk for companies.
3. EDGAR proofs taking hours to deliver
Waiting for hours for a proof on a 10-K or 10-Q is a thing of the past. With the proofing and publishing process now online and automated, conversions are much more efficient.
4. SEC reporting outsourced overseas and lack of 24/7 support
Time zone differences and filing agent business hours shouldn't slow the speed of SEC reporting. With the continued importance of data security, it's important to partner with a filing agent that's not only available 24/7, but also one that can be trusted. Never use an agent that outsources valuable, confidential financial data.
5. Emailing documents and proofs
Much like using Excel for storing key financial data, email is no longer an efficient or secure method of sending sensitive financial documents — even if it's "just proofs." Using a trustworthy, secure financial disclosure platform eliminates the security risk of archaic filing methods.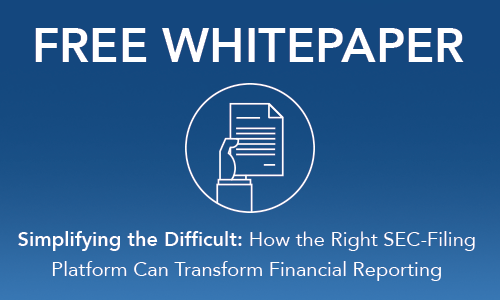 Want to learn more about the key features that an efficient disclosure management system should absolutely have? Read our complete whitepaper "Simplifying the Difficult" for valuable information on how to streamline your compliance process.