How Corporate Compliance Can Be Used In Business Storytelling
November 6, 2019 1:39 pm
As society's attention spans continue to diminish, it takes a lot for a reader to spend even a minute reading an article, blog or press release. While one would think that an investor or shareholder is a more captive audience, it only rings true if a company uses both communications and compliance processes to effectively tell its story.

That's right: Both corporate compliance and communication processes can help improve business storytelling.

This shift to include compliance as a storytelling tool is due to advances in compliance technology. Now compliance can enable companies to clearly, concisely tell their unique quarter or fiscal year story.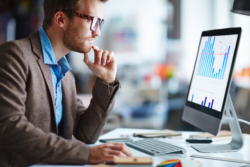 With RegTech and FinTech changing financial reporting and earnings guidance, these five tips will help your company use compliance to tell its story.
Mind the Details: The details (or exposition) is the most important part of any story — and this isn't any different with compliance. Financial reporting and reporting earnings provide the necessary details for the company's storytelling.

Unlike most narratives, however, these details are crafted by an entire team of compliance and investor relations professionals. While having a larger team available makes the story easier to tell, it also requires ensuring each team member is on the same page. When your company approaches its compliance process, make sure there is a streamlined process in place to avoid complications.
Build Your Story's Audience: For public companies, financial reporting isn't just an obligation; it's also an opportunity to build the report's audience. Start by gaining an understanding of who your company's current audience is by using advanced analytics, such as how many people are downloading the report and when most are downloading it. This information can then help you understand how to approach your next quarter or fiscal year's financial reporting process.

Once you know your financial reporting's successes and limitations, your team can look at the big picture and ask: "How successful is my company at building its target audience and executing outreach and investor targeting efforts?"
Accuracy = Credibility: One of the most important qualities that makes any story readable is credibility. Without the author appearing trustworthy, a reader won't get past the opening sentences.

Financial reporting is much the same. Today, XBRL tagging is required for all public companies and provides much needed credibility that will help turn even your most skeptical investors. Thankfully, XBRL's smart data guarantees accurate, detailed information on each data point of your company's story; so investors know their getting the most reliable data possible.
Going Digital: While printed financial materials have long been a standard practice in compliance, interest is growing in making them available in a digital format, too. Digital materials are an effective, strategic and environmentally friendly way to captivate your audience. Offering both digital and hard-copy reports enables your company to reach a larger audience. Plus, typesetting and printing are now quick and easy tasks for most companies; so investing in both reporting methods is a can-do.
Make Your Reporting a Part of the Larger Story: Another key benefit to digital reports is interactivity. A company can engage its audience and lead the reader to other key details that will help tell a more compelling story. For example, an interactive annual report can create a dynamic digital experience linking to information such as real-time and delayed stock quotes, interactive charts and other fundamental data.
Want to gain a better understanding of how your company can simplify its compliance process? Read our white paper for insights on how you can remove the complexities of financial reporting and increase engagement.